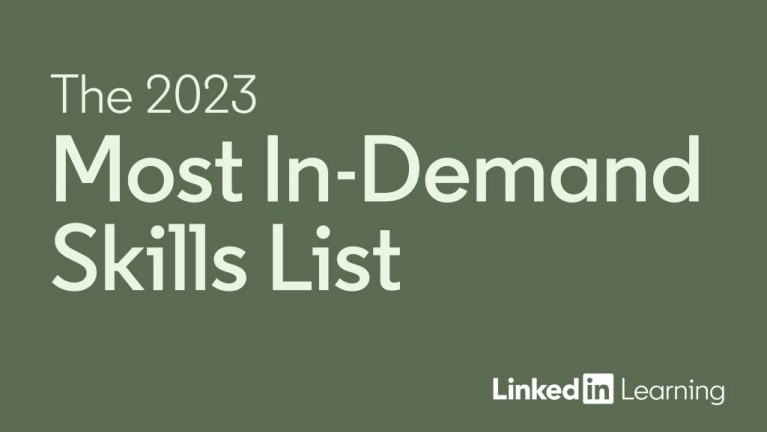 LinkedIn 2023 Most In-Demand Skills
In 2023, employers are looking past the degrees and pedigrees to find the candidates with the skills they need. You can start building these skills right now.
Discover courses, tips, and information that can take your career to new heights
Whether you're learning about accelerating your career around climate change, customer service, generative AI, we've got you covered on those topics and more.

Coding skills are in hot demand, and with advances in AI and tech, these skills are changing fast. Learning through hands-on practice is the best way to stay current, to up your...

Whether you are researching and writing using generative AI tools or building a machine learning model in Python, AI cannot work without you. Your guidance, creativity, and judg...

Directing your career requires more than just doing what's expected and avoiding missteps. Today, you need to advocate for yourself, understand your reputational assets, be acco...

Learning how to overcome stress can help you begin to manage the symptoms of burnout, but true burnout recovery requires something more: a thoughtful, introspective evaluation o...

Whether you'd like to learn how to create your internal mobility career plan, boost your desktop productivity, or understand intersectionality in the workplace, we've got you co...

The best way to become an AI expert is to learn from the best AI experts working today. LinkedIn Learning makes this easy.

Whether you'd like to learn how to increase your visibility at work or how to balance work and life, we've got you covered.

As I explain in my course, Building Career Agility and Resilience in the Age of AI, the adaptive mindset is your strategic advantage in a world of work that is quickly changing....

Whether you're learning how to create a sustainable business, how to adopt personal finance concepts for everyday decision-making, and make better decisions in the workplace, we...

In this blog post, we will explore three tips for effective communication: setting clear meeting objectives, understanding the value of your message, and the significance of pre...

Whether you're learning about how to calm your mind in the workplace, how to leverage positive psychology, or how to live better, we've got you covered on those topics and more.